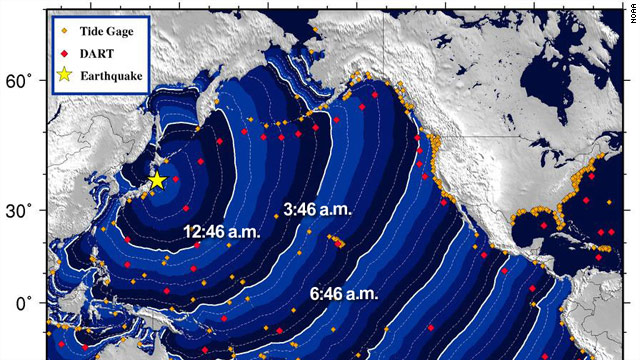 The threat of a tsunami prompted the U.S. National Weather Service to issue a warning for at least 50 countries and territories after an 8.9-magnitude earthquake struck Japan Friday.
The wide-ranging list includes Russia and Central American countries like Guatemala, El Salvador and Costa Rica and the U.S. state of Hawaii. The weather service's bulletin is intended "as advice to government agencies."
The National Weather Service list includes Japan, Russia, the Philippines, Indonesia, Papua New Guinea, Australia, Fiji, Mexico, New Zealand, Guatemala, El Salvador, Costa Rica, Nicaragua, Panama, Honduras, Chile, Ecuador, Colombia, Peru and the United States.
Numerous Pacific islands, including some U.S. territories, are also on the list.
Friday's 8.9-magnitude temblor in Japan was the largest earthquake since a 9.0-magnitude earthquake struck the Banda Aceh area of Indonesia on Dec. 26, 2004, causing a massive tsunami that killed about 250,000 people in 14 countries and washed away entire communities. The tsunami caused nearly $10 billion in damage and more casualties than any other tsunami in history, according to the United Nations.
The earthquake, initially reported as a 7.8 earthquake, was upgraded to an 8.9 quake.
Source: